Song Surgeon
4620 Derby Lane, Doylestown, PA 18902
Tel: 866-423-0413, 215-371-3909 (F)
www.songsurgeon.com
Song Surgeon Version 5 Update
This Sneak Peek video shows you how you can make tempo changes either in units of percent or in BPM.  Making tempo changes available in BPM's was one of the most requested changes from our customers. Take a quick look.  I think you'll like what you see.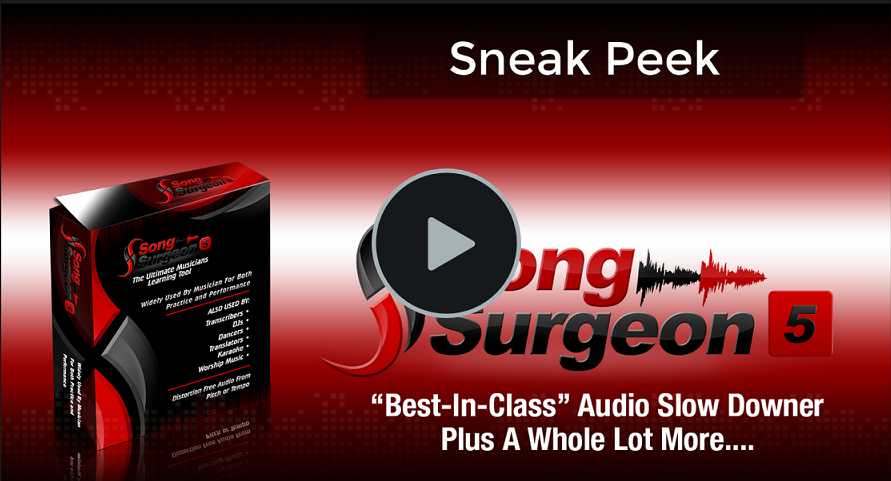 ---
Song Surgeon Version 5 Features
We have shown you a number of the new features that will be found in Version 5 and there are many, many more. I'd like to refer you to a couple of new pages for more details.  Once of these is an overview of the the more significant changes in Version 5. 

http://songsurgeon.com/new_pages/index4.php
The second is a fairly detailed tabular comparison between the Standard and Pro models.
http://songsurgeon.com/new_pages/std_vs_pro.php

---
Song Surgeon Pricing/Upgrade Policy
If you already own a version of Song Surgeon or are anticipating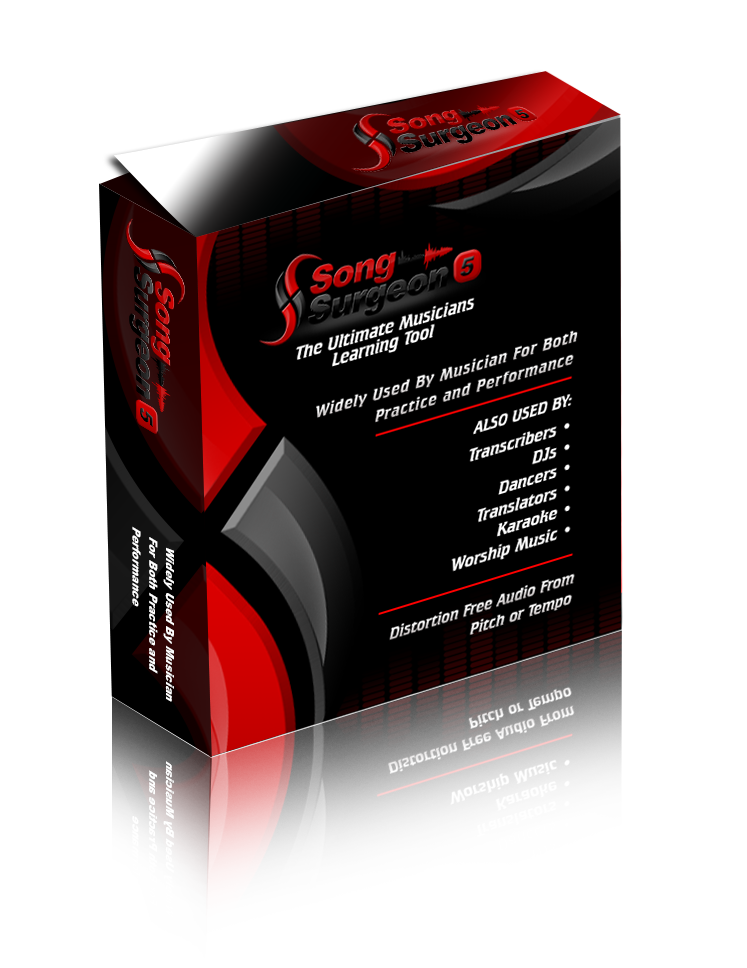 purchasing one soon, please see our Upgrade Policy.   This policy spells out, in detail, how we handle upgrades and any discounts you might expect as an existing Song Surgeon customer.  Please DO NOT contact us and ask us what your price will be if you purchase Version 5. When we begin to sell the Version 5, we will use the Upgrade Policy to determine your price based upon your purchase history.
If you are considering a purchase of Song Surgeon, please note that the above Upgrade policy allows you to apply the money you might spend on Version 4, to a Version 5 basis on a sliding scale. For example if we release Version 5 in early April you will be able to apply 90% of today's purchase price against Version 5.  That's a pretty sweet deal — so if you need key/tempo change now, there is no need to wait to purchase Song Surgeon.
We are pleased to announce that pricing for Version 5 will be the same as for Version 4. Song Surgeon Pro will be priced at $99 and Standard at $69. All existing customers will receive discounts, as specified in the above referenced Upgrade policy, at launch to reduce this price even further.
---
One Stop Shopping For All Your Key and Tempo Needs
Did you know, that in addition to the desktop Version of Song Surgeon, we offer a variety of other products and services.
Mobile App –  Song Surgeon Trainer is a basic version of Song Surgeon that has been released as a mobile app.  It is available FREE on both the Apple and Google Play stores. http://songsurgeon.com/page/mobileapp.html
DIY Key/Tempo Change – Song Surgeon has a free online service that anyone can use to change the key and tempo of a file.  Simply signed up for a free account, and then log in, upload your file, change the key or tempo and then download it again. http://songsurgeon.com/ssweb/
Custom Key Tempo Service – Song also offers a custom key and tempo service.  For $7 we will have one of our audio experts adjust the key and or tempo of your file to meet your specific needs.
http://songsurgeon.com/ssweb/Entry2.php
Until Next Week,

   James Todd
   Song Surgeon.com
p.s.   Stay tuned to this newsletter for updates on the progress of the development of Version 5.  I can't wait to put this in your hands – and I am confident you are going to love it.