Song Surgeon
4620 Derby Lane, Doylestown, PA 18902
Tel: 866-423-0413, 215-371-3909 (F)
www.songsurgeon.com
Weekly Highlights
Last month I stated that this was going to be a busy year for Song Surgeon.  We are in the process of building and developing new products and services that should make Song Surgeon your one-stop shop for audio key and tempo change needs.  To be specific, when we are done, we will have the following products and services to offer:
Our desktop products Song Surgeon Standard and Pro (both Mac and Windows)
A new version called Song Surgeon Trainer, that will be an entry level product (both Mac and Windows)
A mobile app version of Song Surgeon for Apple (iOS) and Google (android) devices.
A FREE (DIY) Online Key and Tempo changes service
A $7 custom Key and Tempo change service (we do the work for you)
PLUS we will soon be kicking off the development of Song Surgeon Version 5.

It should be an exciting year. Stay tuned.

SONG SURGEON VERSION 5 UPDATE
I am pleased to announce that we have now completed the licensing of two separate pieces of technology that will be used in Version 5.  One is a chord detection technology that will allow SS to detect the chords used in a song.  The second is a bpm technology that detects the bmp or tempo of a song. 
Although we have not yet begun work on this new version, I hope to initiate work sometime during the second quarter of this year. Stay tuned for more details.

---
SONG SURGEON MOBILE APP
Development on the mobile app continues.  I expect to have the first test build of the Android version later this month. Once I have that build in hand, I will be in a better position to provide an estimated timetable for its completion and availability.
This app will have basic key and tempo change functions. It will not have all of the bells and whistles found on the desktop version.  Though not definitive, we are leaning toward providing this app for No cost.  We'll certainly keep you posted of our progress.
---
SONG SURGEON TRAINER
Our work on Song Surgeon Trainer is nearing completion.  I am hoping to launch it my the end of March. We may not quite make that time frame but that is our goal.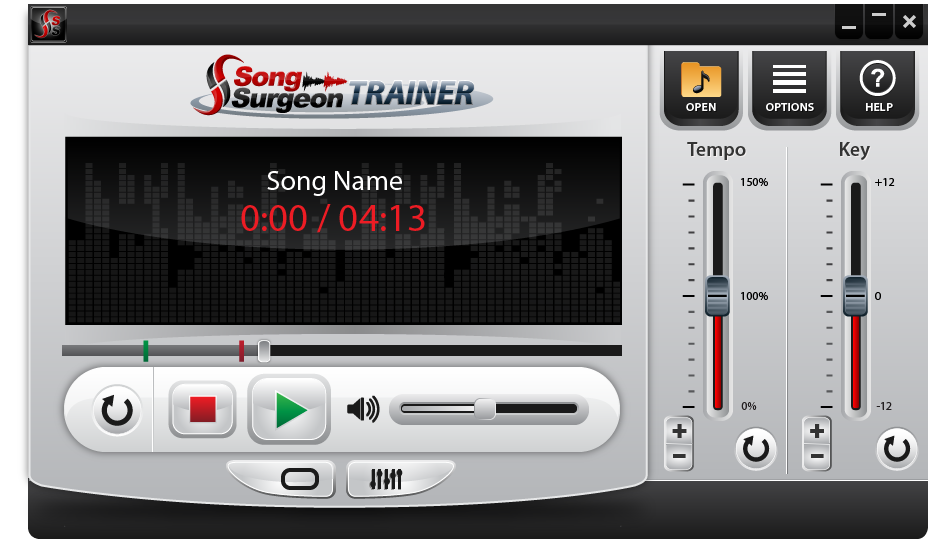 Song Surgeon Trainer be our entry level desktop product.  It will have the ability to change key and tempo and will allow the creation of a looping area. However, it will not be able to save changes. And it doesn't have any of the other functions found in Standard or Pro. 
Song Surgeon Trainer will be similar to Tascam's Voice, Guitar and Bass trainer products, but it will be much less expensive and will be able to open most audio file formats, unlike the Tascam units which restrict access to only a few file types. Above is a preliminary snapshot of what the software will look like.
We anticipate this entry level product being used primarily for practice purposes, due to the fact that changes cannot be saved and that it doesn't use the HQ algorithms found in the Standard and Pro models.  If you don't currently own a version of Song Surgeon and are looking for something inexpensive this should be of interest. It will be available for both Mac and Windows machines.

Until next week,

James Todd
Song Surgeon
p.s.  As we normally do in this post script section, here is the text from an email we recently received from one of our customers. 

>>>>>>>>>>>>>>>>>>>>>>>

I teach chorus, guitar, and gen. music in an elementary school. I use a prerecorded accompaniment with the choral music. If the tempo is too fast or too slow, I am able to change it using songsurgeon. The pitch variation aspect of your product gives me flexibility in choosing choral music.
This week my 3rd grade recorder students played a melody to a prerecorded accompaniment; however, the recording was too fast.  I slowed it down enabling them to be successful playing the melody with the accompaniment. I have not yet used it with my guitar classes, but plan to when the students are introduced to tabs and begin playing guitar solos. I think your product it very useful to music instructors.  I'm a novice at sound production, and when I need help you are very quick to respond. I appreciate your speedy service, since I usually need the information for a lesson I am going to teach that week. I love your product and use it weekly — M. Badovinac