Song Surgeon
4620 Derby Lane, Doylestown, PA 18902
Tel: 866-423-0413, 215-371-3909 (F)
www.songsurgeon.com
| | |
| --- | --- |
| Thursday, February 26, 2015 | |
Weekly Highlights
Last month I stated that this was going to be a busy year for Song Surgeon.  We are in the process of building and developing new products and services that should make Song Surgeon your one-stop shop for audio key and tempo change needs.  To be specific, when we are done, we will have the following products and services to offer:
Our desktop products Song Surgeon Standard and Pro (both Mac and Windows)
A new version called Song Surgeon Trainer, that will be an entry level product (both Mac and Windows)
A mobile app version of Song Surgeon for Apple (iOS) and Google (android) devices.
A FREE (DIY) Online Key and Tempo changes service
A $7 custom Key and Tempo change service (we do the work for you)
PLUS we will soon be kicking off the development of Song Surgeon Version 5.

It should be an exciting year. Stay tuned.

SONG SURGEON VERSION 5 UPDATE
Here is a brief update on the status of version 5:
We have identified, tested and successfully licensed a technology that will allow us to incorporate BPM detection into the new build. 

We have identified, tested, and are in the final stages of negotiating a license that will allow us to use a Chord detection system in Version 5.

This is great news because these are two of the major components we were planning to add to Version 5 – pending finding appropriate technology and licensing it. Now that we have them nailed down these two features should be a certainty for Version 5. Although work has not yet begun we hope to kickoff the development of Version 5, in the 2nd quarter of this year.

---
SONG SURGEON MOBILE APP
Development is underway for our Mobile App. This will be a two step process. First we'll complete work on the Android build.  Once this is done, we'll begin working on the iOS (Apple) version.
This app will basic key and tempo change functions. It will not have all of the bells and whistles found on the desktop version.  Though not definitive, we are leaning toward providing this app for No cost.  We'll certainly keep you posted of our progress.
---
DOWNLOAD SURGEON – NOW AVAILABLE!
I have mentioned Download Surgeon over the past several months in this newsletter.  It is NOW available.  DS is an tri-module A/V Downloader.

This product is similar to the download module found in Song Surgeon Pro, though with some changes and improvements.  If you own Pro, you will need determine whether the modest enhancements found in this product are worth the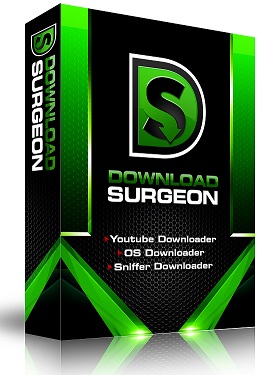 extra dollars. That is a decision for you to make, not us.
However, if you have a Standard version of Song Surgeon or have been a demo user – and you are looking for a way to download audio and/or video from YouTube, SoundCloud, Reverbnation, and thousands of other sites, then I encourage you to give this a look.  
During this launch period, we are offering a 50% discount off the normal price of $39.95. That means you can grab Download Surgeon right now for $19.95.  Here is the link to the ordering page:
http://downloadsurgeon.com/shopping/
Please note  that your purchase entitles you to install on only one machine, not three as we do with Song Surgeon. Download Surgeon runs on both Windows and Mac (OSx) machines.
Like all of our products, Download Surgeon comes with one full year of support – and is also backed by our no-hassles guarantee policy.   If for any reason during the first 90 days, you are not satisfied, contact us and we'll refund 100% of your purchase, no questions asked. 
---
SONG SURGEON TRAINER
This desktop app is under development right now. Song Surgeon Trainer be our entry level desktop product.  It will have the ability to change key and tempo and will allow the creation of a looping area. However, it will not be able to save changes.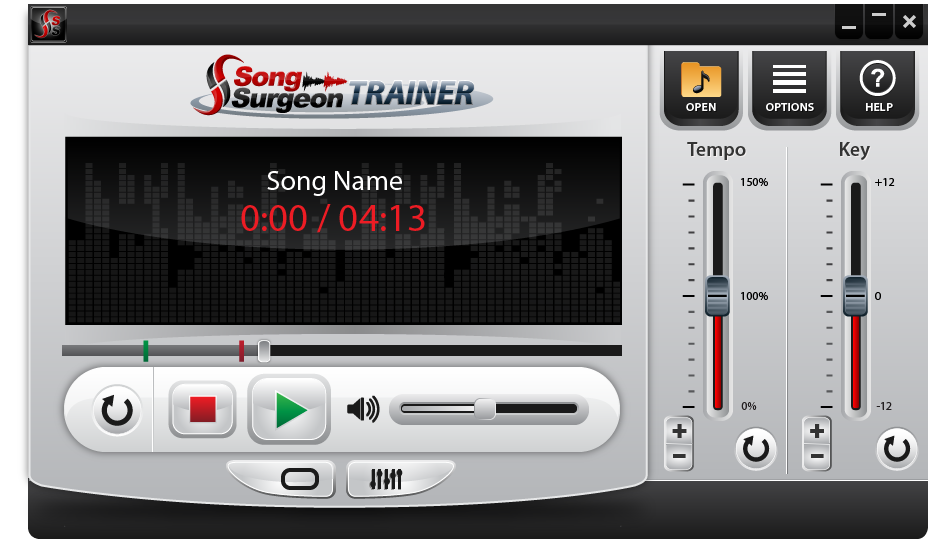 And it doesn't have any of the other functions found in Standard or Pro.  
Song Surgeon Trainer will be similar to Tascam's Voice, Guitar and Bass trainer products, but it will be much less expensive and will be able open most audio file formats, unlike the Tascam units which restrict access to only a few file types.
To the right is a preliminary snapshot of what the app will look like.
We anticipate this entry level product being used primarily for practice purposes, due to the fact that changes cannot be saved and that it doesn't use the HQ algorithms found in the Standard and Pro models.  If you don't currently own a version of Song Surgeon and are looking for something inexpensive this should be of interest. It will be available for both Mac and Windows machines.
---
Karaoke Users
I know we have many Karaoke users among Song Surgeon.  If you are one, I'd like to ask a favor. We are exploring the possibility of creating a product solely for Karaoke singers.  Please take a minute and respond to our survey on this potential product to help us better understand your needs and what features you would want in such a product.
http://www.esurveyspro.com/Survey.aspx?id=f93b05f5-03a6-448b-806e-050d5603b79e
Until next week,

James Todd
Song Surgeon
p.s.  As we normally do in this post script section, here is the text from an email we recently received from one of our customers. 

>>>>>>>>>>>>>>>>>>>>>>>

I purchased Song Surgeon 3 months ago and use it primarily for keyboard learning. It sits on a dedicated laptop I bought off Ebay for about £25 and is invaluable for learning short complex passages of music.
In comparison with other solutions I have previously used for slowing down music, eg Audacity, Amazing Slow downer and the Tascam LR 10, Song Surgeon is the outright winner in terms of sound quality and ease of use and has completely replaced other solutions.  D. Beazley, UK